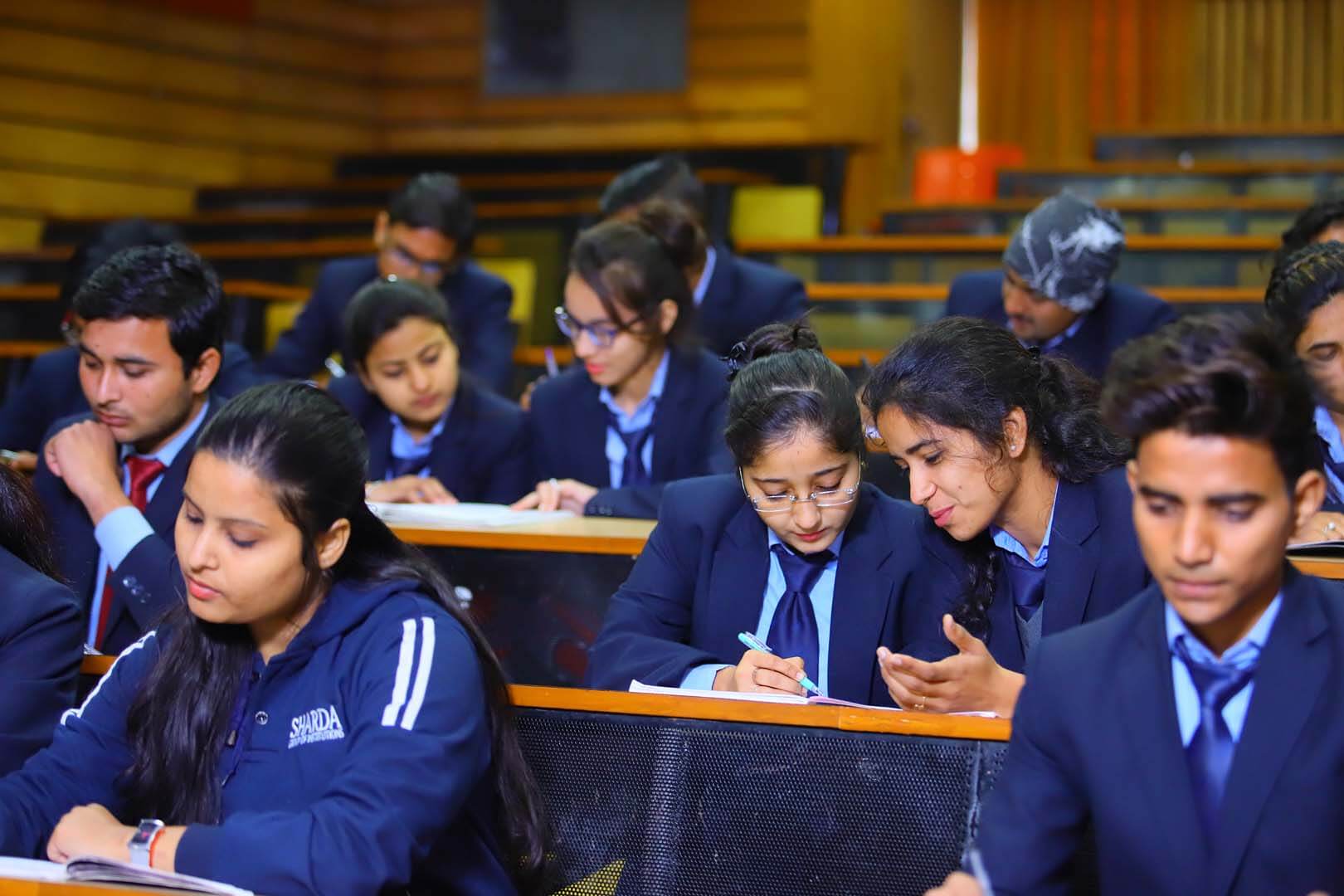 Master of Pharmacy (M.Pharm) at Sharda Group is a 2 year post graduate course in pharmacy that provides an in-depth knowledge and hands-on experience to the students in psychomotor skills in the specialized fields of the profession of pharmacy. The program deals with various aspects of pharmacy. 
Please feel free to contact us.
It is concerned with the division of chemical and health science which ensures effective and safe use of pharmaceutical drugs. It trains the candidates by imparting the knowledge of practical aspects of topics like instrumental techniques, industrial operations, research methodologies and other emerging areas.
The course provides specialization in key areas like oncology pharmacy, nutrition pharmacy, oncology pharmacy, pharmaceutical analysis, nuclear pharmacy, infectious disease pharmacy, medicinal chemistry, psychiatry pharmacy and cardiovascular pharmaceutics. M.Pharm program at Sharda Group involves a balanced integration in management education and pharmacy research.
The first year of this two year degree program involves practical and theoretical sessions in the key areas like advanced pharmaceutical methods of analysis, dosage form technology, advances in industrial pharmacy, novel drug delivery systems, drug regulatory affairs, bio pharmaceutics and pharmacokinetics. In the second year, candidates take up several projects that are aimed at exploring and developing their pharmaceutical skills. The second year projects are done in hospitals either in association with a pharmaceutical company or a clinical research organization.
Program Highlights
Industry oriented
Tailor made program suitable for research organizations and pharmaceuticals industry
Vibrant and experienced faculty with expertise in pharmacy research
Need base research in industry related areas
Need based, proactive, conceptual and research based curriculum
Frequent interaction with industry
To inculcate in candidates effective communication skills, professional and ethical attitude, multidisciplinary approach, teamwork skills and an ability to relate pharmaceutical sciences issues to broader social context.

To provide candidates with a powerful foundation in Pharmaceutics, Pharmacology, Pharmaceutical Chemistry and Pharmacognosy fundamentals as per the requirements of pharmaceutical industries, hospitals and community pharmacy.

To train candidates with good knowledge of human physiology and anatomy, pharmacokinetics, drug chemistry and properties and formulation and development.

To prepare candidates to excel in pharmaceutical industry through global and rigorous education.
Minimum eligibility for this program is a degree in Bachelor in Pharmacy from any recognized university/institute with a minimum score of 60%. An entrance exam is the preferred mode of admission by most institutes for this program. The score of entrance exam like Graduate Pharmacy Aptitude Test (GPAT). Students awaiting their graduation results are also welcomed to apply for M.Pharm.
B.Pharm

60% Marks in B.Pharm

Passed from recognized university
2 Years Course

4 Semester

2 Semester/Year
After completing M-Pharmacy, the candidates can seek employment in private, government and multinational companies. Opportunities exist in Pharmaceutical, Chemical, Biotechnology and allied industries. Successful candidates can be employed as scientist, quality supervisor and clinical analyst. You can also seek employment in government departments, research organizations and educational institutes. Some other key career opportunities available to the aspirants are:
Research position in R & D departments, central laboratories and universities
Hospitals: Clinical research, Pharmacists
Higher studies in national and international universities
Entrepreneur
CORPORATES WHICH RECRUIT M.PHARM STUDENTS
Life cell International Ltd.
IDS Infotech Ltd.
Cryobanks International (P) Ltd.
Shreya Life Sciences.
Abbott India Pvt. Ltd.
Cord Life India.
Health watch tele diagnostics pvt.ltd
Advantmed India LLP.
Omics International.
Sunshine pvt.ltd.
Shyam biotech pvt Ltd.
Juventes.
Generally, the level of remuneration offered to pharmacy graduates is Rs. 2 lakh p.a.- Rs. 4 lakh p.a. initially, going up by 3 to 4 times after 8 to 10 years of experience.