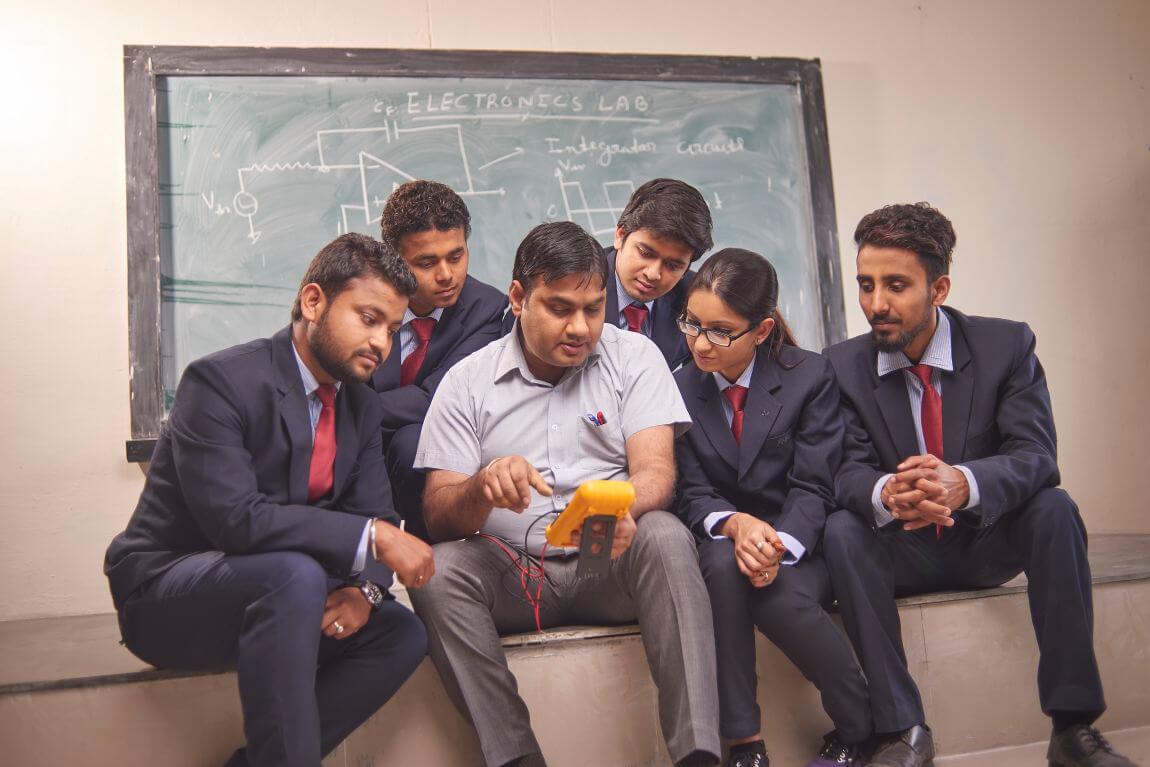 M.Tech Electronics and Communication Engineering with specialization in VLSI Design program aims at preparing students to develop knowledge and skills  in VLSI design methodology with a system perspective in order to facilitate the use of CAD (Computer-Aided Design) tools for the analysis and design of special-purpose digital and analog circuits and systems.
Please feel free to contact us.
The program provides capabilities to students to understand the requirements of EDA development, analog and mixed signal design, semiconductor chip design, IC design and verification, design and implementation of integrated circuits using standard tools that make them industry-ready.
The two-year postgraduate M.Tech Electronics and Communication Engineering program is offered at Sharda Group that covers the fundamental and engineering aspects of designing and developing several IC-based systems. VLSI technology has emerged out as a successful accumulation of two streams including material science and electrical engineering. The program will focus on developing hands-on skills of designing semiconductor devices and circuits, and architecting systems using embedded components like CPU, memory and other peripherals.
The curriculum for M.Tech Electronics and Communication engineering with specialization in VLSI Design is aimed at VLSI system design covering algorithms, system architectures, physical designs, simulation and synthesis and design techniques and mixed mode design methodologies. The program also offers strong knowledge in embedded systems design covering areas such as advanced embedded system design, real time embedded systems, advanced embedded microcontrollers and systems on chip.
Several core and elective courses are offered to the students.  Sharda Group have state-of-art laboratories and highly qualified faculty with expertise in these areas. During the program, students will also get an opportunity to participate in projects related to the designing of low power VLSI systems, optimization of digital circuits and other flexible electronics.
Program Highlights:
Distinctive academic curriculum
Qualified and competent faculty
State-of-the-art laboratories
Project-based learning
Exceptional computing facilities
Industry interaction
To equip students with the knowledge of VLSI design methodologies

To expose students to the complexities and design methodologies of current and advanced IC based methodologies

To engage students in the life-long learning and professional development through self-study, professional and doctoral level education

To identify, formulate and solve VLSI design problems using advanced level manufacturing techniques

To be in a position to analyze real life problems and design socially accepted and economically feasible solutions in the respective areas
B.Tech/B.E pass from a recognized board or university and a minimum of 60% marks.
B.Tech in ECE

60% Marks in Engineering

Passed from recognized university
2 Years Course

4 Semester

2 Semester/Year
After the completion of M.Tech Electronics and Communication Engineering with specialization in VLSI design program at Sharda Group, candidates can work in the field of VLSI design and can play different roles in the leading core companies. They can also go for teaching jobs in colleges and universities, both in government and private sector.
Employment and career opportunities in this sector are huge and the specialized engineers can seek their career as front and verification engineers, molding engineers, PCB designer, AMS designer, DFT designer, system analyst etc.
Development Centers in various States & private companies dealing in manufacture, sales and services of electronics consumer goods and appliances. Electronics and communication engineers are also absorbed into the entertainment, consumer electronics, consumer durables, transmission industry, research establishments, and specialized defence products like signalling equipments, radar control equipments etc.
CORPORATES WHICH RECRUIT ELECTRONICS & COMMUNICATION ENGINEERING STUDENTS
Software Companies:
TCS
Infosys
Satyam- Mahindra
L & T Infotech
HCL
I-Gate
NIIT Technologies
Torry Harris
Wipro Infotech
EDS
Webcom
R-Systems
Global Logic
Netchasers
Sapient
Sapient Informatics
Accenture
Daffodil Software
Networking Companies:
HCL Infosystem
Data Armor
Spanco
Hughes Communication
Idea
Tata Tele Services
Sterling Telecom Electronics Companies
Mobile/Communication Companies:
Sasken
Z-Teck
Electro Com
Sony Ericsson
L.G. Electronics
Control & Switchgears
TNS
Abacus
All the three wings of Indian armed forces viz. Army, Navy and Airforce
The opportunities are limited only by the aptitude, training and preparation of the candidates. Beginning with minimum of Rs. 2.2 lakh/p.a. to Rs. 4.5 lakh/p.a. for entry level jobs, bright students are able to secure offers as high as Rs. 4.5 – Rs. 6.5 lakh/p.a. with specialized training in Mobile computing, VLSI Design etc. Sky is the limit for experienced professionals.