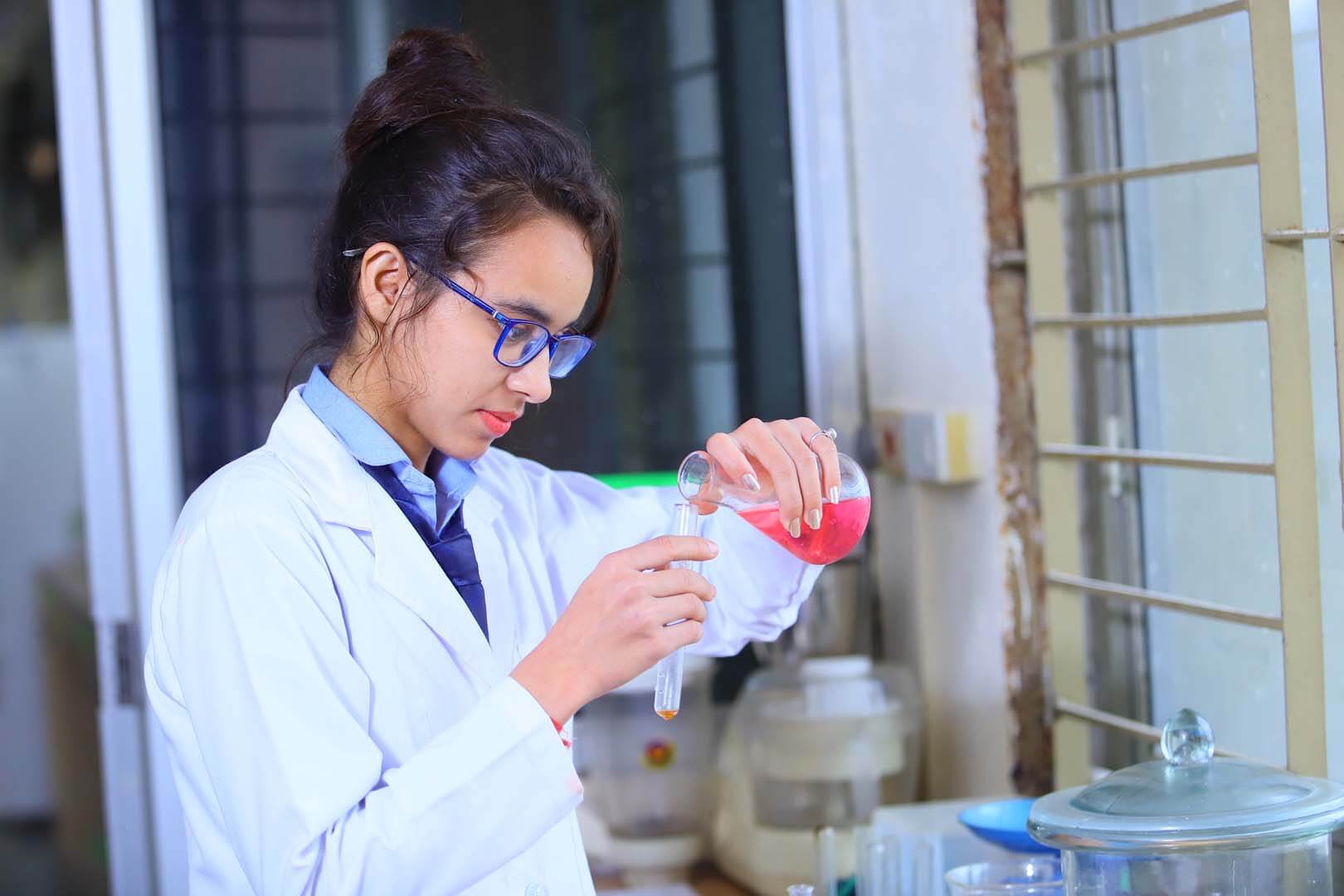 B.Tech Chemical Engineer deals with the application of physical science and life sciences with mathematics and economics to the process of converting raw materials or chemicals into more useful or valuable products. In addition to producing useful materials, modern chemical engineering is also concerned with pioneering valuable new materials and techniques – such as nanotechnology, fuel cells, and biomedical engineering. 
Please feel free to contact us.
About Chemical Engineering
The main role of chemical engineers is to design and smooth functioning of processes for the production of chemicals, fuels, foods, pharmaceuticals, and many more. They are most often employed by large-scale manufacturing plants to maximize productivity and product quality while minimizing costs.
In Hindustan College of Science and Technology, Chemical Engineering Branch was Started in 2006 with intake of 60 seats. Near about 450 students have been successfully completed their B.Tech. from the department and working in various reputed organizations of Chemical Engineering field across the Globe. Department always believes in holistic development of the students and for that organize various academic and extracurricular activities for the students in time to time.
Scope of Chemical Engineering is as follows:


Oil & Petroleum Industry

Chemical Manufacturing Industry

Food Industry

Electronics Industry

Fertilizers Industry

Cement Industry

Paper & Pulp Industry
Job Profiles after Chemical Engineering:-


Biomedical Engineer

Chemical Engineer

Chemical Technician

Chemical Material Scientist

Nuclear Engineer

Production Engineer

Quality Control Engineer
10+2 pass from a recognized board or university with Physics, Chemistry, English and Mathematics as compulsory subjects and a minimum of 50% marks.
10+2 with PCM

50% Marks in 10+2

Passed from recognized board or university
4 Years Course

8 Semester

2 Semester/Year
After completing Chemical Engineering, candidates have immense scope in various fields. One can get employment opportunities in industrial plants and refineries, offices, laboratories, pharmaceutical companies, etc. Along with private corporations, one can also get to work in government organizations.
Some chemical engineers make designs and invent new processes. While there are some who construct instruments and facilities; there are others who plan and operate facilities. Chemical engineers have helped develop atomic science, polymers, paper, dyes, drugs, plastics, fertilizers, foods, petrochemicals, etc.
A good civil engineer should possess Logical and critical reasoning, analytical, comprehension and thematic aptitude, quantitative aptitude, good communication, linguistic and verbal skills innovative and creative mind set with curiosity to learn, mechanical aptitude and attention to details, emotional maturity with good interpersonal skills, capacity for hard work and field duty and problems solving skills are some of the essentials.
CORPORATES WHICH RECRUIT CHEMICAL ENGINEERING STUDENTS