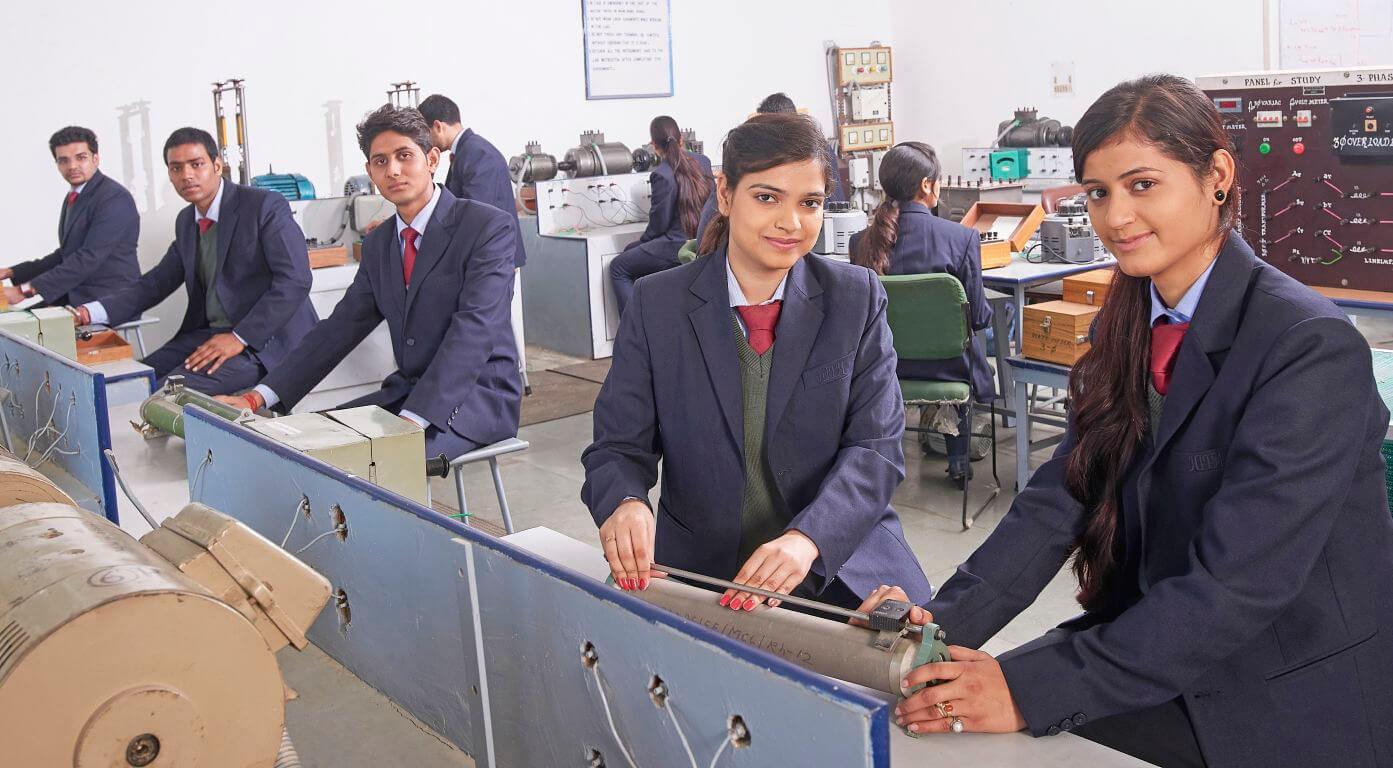 B.Tech Electrical and Electronics Engineering is one of the largest and most diverse technological and engineering disciplines today. B.Tech (Electrical and Electronics Engineering) program by Sharda Group offers a unique mix of electrical, electronics and computer related courses that enables the students to pursue higher studies and choose career in any of these areas.
Please feel free to contact us.
About Electrical and Electronics Engineering
B.Tech in Electrical and Electronics Engineering (EEE) offers challenging opportunities to the students over a wide range of activities – ranging from research and design to operations, planning and management. Students also get the chance to undertake real-life professional engineering practice and acquire transferable skills in innovation, entrepreneurship, leadership, project management and technical report writing. Electric and Electronics engineers work on a wide range of technologies – ranging from geographical information systems to electric power generation grids.
B.Tech in EEE program covers a range of subtopics including power, signal processing, control systems, electronics and electrical power supply. The program offers balanced modules of electronics, electric, microprocessors, control and telecommunications supported by the basic units in software programming, analysis and engineering science.
The course encourages the responsible use of electrical power and covers a broad range of electrical and electronics engineering disciplines. During the course students learn to use the latest computer interfacing technologies in electrical instruments laboratory at the institute. The laboratory has virtual instrument workstations that use diverse software and hardware prototyping boards. Students at the institute use these workstations for testing and designing electronic circuits and for creating modern programmable intelligent applications.
To design and analyze electrical and electronic equipment using the knowledge of mathematics and engineering

To provide practical solutions to real-time industrial and research problems and to pursue higher-studies

To work effectively as individual and in teams in several engineering and government organizations
10+2 pass from a recognized board or university with Physics, Chemistry, English and Mathematics as compulsory subjects and a minimum of 50% marks.
10+2 with PCM

50% Marks in 10+2

Passed from recognized board or university
4 Years Course

8 Semester

2 Semester/Year
Electrical and Electronics Engineers are in huge demand in India. From a small house to the big business organizations where there is necessity of electricity to function, there are amazing career opportunities for electrical and electronics engineers.
Plenty of job opportunities are available there in private and government sectors like railways, electricity board and utility companies, electrical design and consultancy firms and all types of manufacturing industries. Companies like SAIL, BHEL, ONGC, ABB, Reliance Power Ltd. and Wipro Lighting are the biggest employers currently hiring electrical and electronics engineers.
Students can also work in other sectors like software, internet, manufacturing, oil and gas, power etc.
Advantages of the Program
The curriculum of the program is updated periodically to reflect changes in the energy management auditing and lighting profession. Some of the innovative practices that are the part of curriculum at Sharda Group include mini projects associated with the lab, theory courses, relative grading etc.

We have excellent links with the leading organizations and a well-connected alumni network. Infrastructure facilities include well-managed laboratories, integrated electronics lab, electrical machinery lab, circuits and management lab, microprocessors and embedded systems and departmental library.

We also organize regular visits to the reputed industries and power stations as a part of the curriculum.

Guest lectures are also held by academic and industrial experts regularly for the benefit of students.
CORPORATES WHICH RECRUIT SGI ELECTRICAL & ELECTRONICS ENGINEERING STUDENTS
Larsen and Toubro Ltd.
 Schneider Electric Ltd.
 Areva TD Ltd.
 Ispat Industries Ltd.
Control and Switchgears Ltd.
Godrej Ltd.
Crompton Greaves Ltd.
Alsthom Ltd.
J.K. Tyres Ltd.
Goodyear Tyres Ltd.
Havells Ltd.
Punj Lloyd Ltd.
Lloyd Insulations Ltd.
LG Electronics Ltd.
TTL Ltd.
Frick India Ltd.
Mohan Energy Corporation Ltd.
G.E. Motors Ltd.
Bhushan Steels Ltd.
Lurgi
Technip
NuChem
Rockwell Automation
Honeywell
Reliance Industries
ITC Food
Torrent Power
Freshers can get a starting salary of minimum Rs. 2.2 lakh p.a. to Rs. 6 lakh p.a. excluding other allowances. With more experience or as an established independent consultant one could earn more. Senior engineers can earn anywhere in between Rs. 6 lakh p.a. and Rs. 12 lakh p.a.