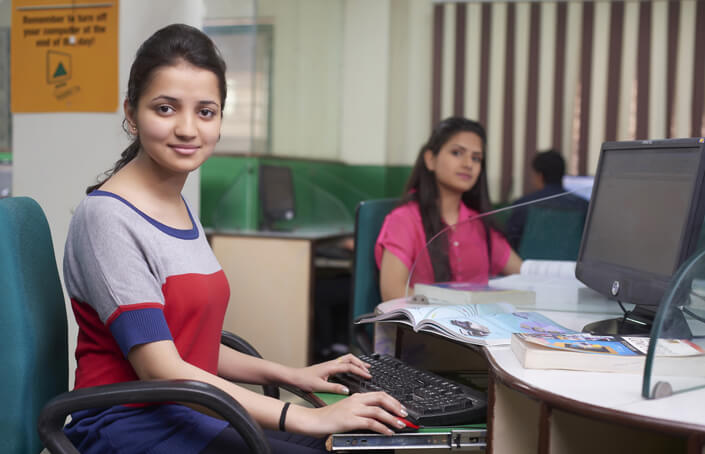 B.Tech Information technology and its applications involving information system design, information storage and retrieval, information acquisition and flow have a crucial role in civil, electrical, mechanical and other branches of engineering.  At Sharda Group, students learn the fundamentals of information technology to understand its key concepts.
Please feel free to contact us.
About Information Technology
B.Tech Information Technology (IT) is an undergraduate degree program that focuses on computer and technology. The discipline covers both hardware and software segments and helps to generate, manage, store, communicate and flow the information. In the field of communication, inventory management, information systems, data management, and customer relationship management, IT plays a pivotal role. Information technology is extensively used in digital marketing, online shopping, cloud computing, social networking, mobile and big data for solving business issues.
The curriculum of B.Tech Information Technology at Sharda Group is primarily designed to provide students with both theoretical and technical skills which enable them to solve complex and challenging problems. The curriculum also intends to improve technological depth of knowledge and skills in design, implementation and use of core and specialized skills of information technology. Students are also taught various fundamental concepts including security, web systems, networking and software engineering.
The course focuses on the complete software development life cycle, database and knowledge discovery with judicious blend of technical skills. The program structure is continuously improved by taking inputs from the industry experts, keeping in mind the upcoming trends.
Highlights of B.Tech programme
Many live projects are offered to hone the skills of the students
The program also accounts for the development of managerial skills
Elective courses are also offered
Expert lecturers by renowned academics and industrialists are also organized
Students also participate in several national level events
Industrial internship and challenging project are also the part of the curriculum
After completion of the B.Tech program, students will be able to:
Demonstrate technical competence to work in IT sector

Pursue higher studies, carry out research and development in evolving technologies

Analyze, design and provide solutions to the challenges in information technology sector

Engage in life-long learning, communicate and exhibit the leadership skills

Demonstrate sensitivity towards several ethical and environmental issues and social responsibilities.
10+2 pass from a recognized board or university with Physics, Chemistry, English and Mathematics as compulsory subjects and a minimum of 50% marks.
10+2 with PCM

50% Marks in 10+2

Passed from recognized board or university
4 Years Course

8 Semester

2 Semester/Year
The six major fields (domains) in which IT professionals work are:-


This includes the physical elements of the computer system and deals with the designing, manufacturing and maintenance of computers. This area also includes the assembling of the manufactured components of the computers; and installing & integrating the computer systems through Networks for efficient utilization. Hardware & Networking are two separate disciplines having some common subject / understanding.
SOFTWARE ENGINEERING & DEVELOPMENT
This includes the set of instructions by which a computer is programmed for working and performing the specified tasks. This realm includes the work of designing the programs for various purposes. Programs may be for controlling the functioning of the computers or they may also be some user-friendly programs for specific needs. The programs may also come in the form of packages, which are designed for specific needs, or meeting the different kinds of requirements for large number of people. Custom made programs & solutions for special applications are also needed on a huge scale.
SERVICES & APPLICATION SUPPORT
Systems integration & applications management; Networking & data base management; installation & maintenance of software applications etc. are some of the support & services rendered.
BUSINESS DEVELOPMENT & CUSTOMER RELATIONSHIP MGT. (CRM)
In IT, these are akin to the Sales & Marketing activities. As Software solution providing is essentially a consulting discipline the marketing is highly technical & termed Business Development.
It involves designing of chips and circuits, computer architecture and integration of peripherals. It also includes improvement and upgrading of the existing systems, software & applications.
I.T. & INFRASTRUCTURE MANAGEMENT
Managers ensure that the development and operations work goes on smoothly. They look after the allocation of resources and planning. MBA-IT qualifications (like BCA/MBA-BBA/MCA; B. Tech (CS or IT) + MBA) are much sought after in this segment.
After completion of B.Tech Information Technology, students can opt for higher studies like M.Tech/MS in various specializations. IT sector is one of the most significant sectors today that is growing rapidly. The career scope for IT professionals is comprehensive. After completion of the program, engineers can get lucrative job opportunities with renowned companies. Engineers can start their career as programmer, database administrator, database designer, data warehouse designer, ERP, network architect, network engineer, software engineer, system administrator etc.
At senior management levels the industry offers almost the best compensation. At entry level also offers range from Rs. 2.5 lakh p.a. to Rs. 6.5 lakh p.a. and in 4 years the earnings get doubled. For those trained in niche areas of software development, ERP, VLSI & chip design, etc. or in MNCs of repute Rs. 4.0 lakh p.a. to Rs. 8 lakh p.a. at entry level may be offered.
CORPORATES WHICH RECRUIT SGI INFORMATION TECHNOLOGY STUDENTS
Software Companies:
TCS
Infosys
Oracle
Tally Solutions
Sopro
Huawei
Satyam
L & T Infotech
HCL
I-Gate
I-Flex
Polaris
M-Phasis
ITC Infotech
R-Systems
Ramco
Belmark
Persistence
Geometric Solutions
NIIT Technologies
Torry Harris
Wipro Infotech
EDS
Webcom
Global Logic
Compare Infobase
Kale Consultants
U.S. Technologies
Jaintec Software Solutions
EMC2 Ltd.
Netchasers
Sapient
Sapient Informatics
Accenture
Daffodil Software
Networking Companies:
HCL Infosystem
Data Armor
Spanco
Hughes Communication
Idea
Tata Tele Services
Sterling Telecom
INS Ltd.
Mobile/Communication Companies:
Sasken
Z-Teck
Electro Com
Sony Ericsson
L.G. Electronics
Control & Switchgears
TNS
Abacus