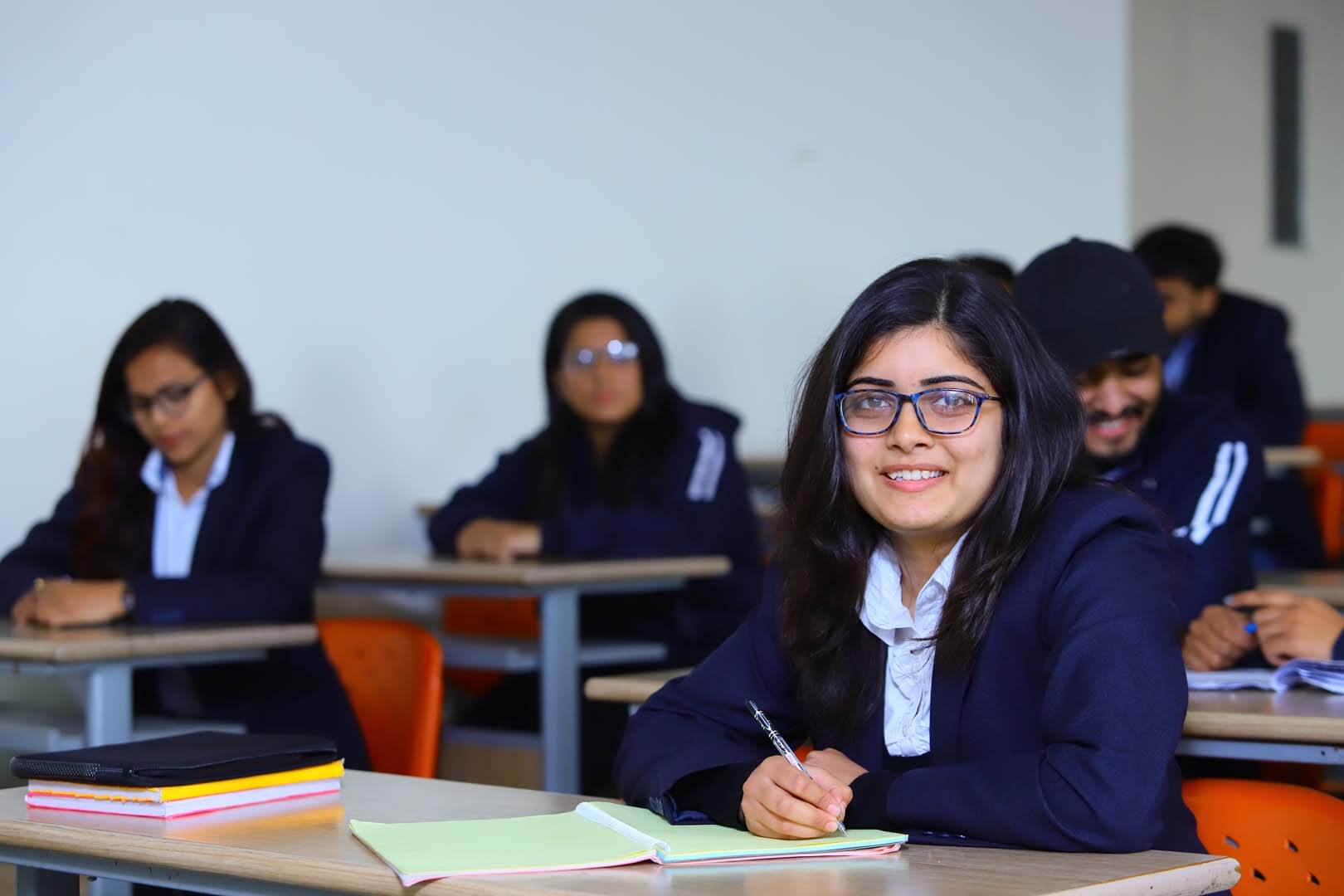 Bachelor of Business Administration (BBA) program at Sharda Group provides a strong foundation in the core business disciplines and helps aspirants to acquire the key competencies needed at undergraduate level. Our intensive BBA program focuses on the overall development of the students including effective communication skills, decision making and developing a holistic view of the different functional areas of the business environment.
Please feel free to contact us.
The 3 year BBA program at Sharda Group equips students with the right knowledge and skills required in business and management which are needed to build a successful career in corporate sector. The course focuses more on leadership development and management skills of the learners. BBA program prepares students to explore newly created opportunities in the management profession. BBA program study methodology involves practical training through real-world experience in the form of projects, case studies, presentations, industrial visits and interaction with the experts within the industry.
BBA program is designed with an objective to produce future business managers, executives and entrepreneurs with a blend of theory and practical experience which helps students to take up challenges in the industry. First year of the program builds basic concepts in various business related subjects, while second year focuses on specialized subjects. In the final year, students choose their stream and pursue their training in the chosen functional area.
In the third year, students take up live projects related to HR, marketing, finance, laws and policies, financial statement analysis, decision making, wealth management etc. which provides them a hold on the theoretical concepts of business administration.  In the final semester, students join an industry setup for training based on their chosen specialization. This is an important and compulsory part of the curriculum that is designed to provide industrial exposure and develop an understanding of the real corporate world to the students.
To provide basic understanding about the subjects in business management among the aspirants

To prepare students to exploit opportunities in the areas of management

To train students in effective communication, leadership and entrepreneurial skills

To provide an environment to students that facilitates the overall development of the students' personality
The program develops managerial skills in the students by giving broader perspective through the knowledge of all functional areas, enhancing their decision making capabilities and sharpening business analysis skills
BBA graduates have an edge over other graduates and they can easily get direct entry to the corporate sector
10+2 pass from a recognized board or university and a minimum of 50% marks.
10+2

50% Marks in 10+2

Passed from recognized board or university
Due to having prior knowledge of the different aspects of management, BBA graduates can easily find jobs in different functional areas.  After completion of the BBA degree, students can also consider broadening their horizon to qualify for the top level positions through MBA degree. Doctoral programs are also available that prepare candidates to work as business consultants and university professors. After the completion of BBA degree, professionals can also run their own ventures.
Almost all kinds of business and industrial companies look for business managers. IT companies, Banks, Oil companies, Financial services & Insurance companies, Event management companies, Trade and Manufacturing companies, Chemical companies, Telecom, FMCG, Consumer Durables, Marketing Agencies, Importing & Exporting companies and consultants are only some of the wide range of companies which visit College Campuses looking for entry level talent; with most of these sectors growing, there is a healthy and keen demand for entry level MBA talent. MBAs are in great demand even in international markets.
CORPORATES WHICH RECRUIT BBA STUDENTS
ASHLER INDIA PVT. LTD.
CEASE FIRE
HDFC BANK
SBI LIFE INSURANCE
TOLUNA
UNICON
DEFODIL SOFTWARE
ITC RETAIL
GREEN PLY
ASIAN PAINT
VODAFONE/AIRCEL
L&T
INDIAMART
ELEVATIONS & CREATIONS
HCL TECH. LTD. (BUSS. SERVICES)
RELIANCE COMMUNICATION
GETIT INFORAMTION SERVICES
KOTAK LIFE INSURANCE
ASHIANA HOUSING
VIP INDUSTRIES
AIR CELL
FUTURE GROUP (BIG BAZAR)
AGREEN RELIGORE
RELIANCE DIGITAL
KEVINE GROUP
KARUR VYASA BANK
+ 30 more companies
The remuneration for business managers is among the highest in the country and starting from Rs. 2 lakh p.a. to Rs.5 lakh p.a. at the entry level is a common range if one holds a good MBA degree from good business management institutes. For IIMs & equivalent institutes and capable students, the upper limit can stretch to 2 to 3 times of this (Rs. 5 – 20 lakh p.a.) and even higher for those placed overseas. The remuneration for those holding an MBA degree and a bachelor's degree in a discipline which is also concerned with that kind of work domain enhances the expertise and also the remuneration. B.Tech / MBA, B.Com / MBA / ICWA / CA or IT / MBA are some such prized combinations.