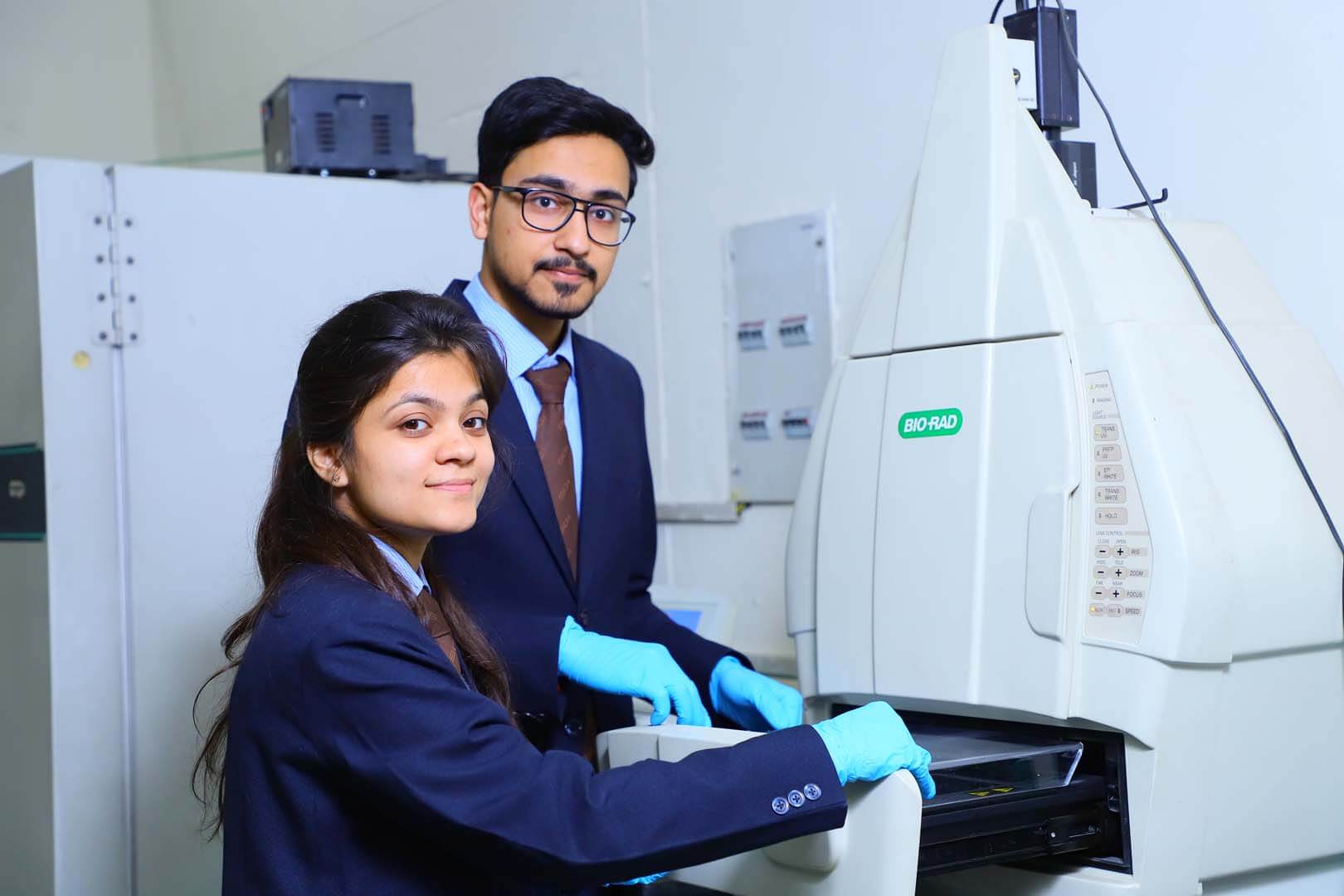 B.Tech Biotechnology at Sharda Group is a 4 year undergraduate degree program that deals with biological processes and their utilization for industrial purposes such as studying micro-organisms and utilizing the knowledge for the development of medicines, antibiotics etc.
Please feel free to contact us.
Biotechnology is the field of applied biology that involves the use of living organisms and bioprocesses in engineering, technology, medicine and other industries requiring bio-products. This program is designed to expose students to recent exciting developments in biotechnology and their application in the industries, medicines and agriculture etc. B.Tech degree in Biotechnology exposes students to both biological science and industrial processes, thereby giving them a well-rounded education and skills to work in industries and labs. Apart from studying about basic biological science related subjects, students are also exposed to the modern subjects like bioinformatics, stem cells and genetic engineering.
Biotechnology engineering applies in the field of animal husbandry, energy production, agriculture, eco-conservation, pollution control, disease research, and research and development of medicines, fertilizers, insecticides etc.
B.Tech Biotechnology is a 4 year programme whose curriculum includes courses from biology and technology together with relevant research projects and laboratory programs. The course covers subjects like enzymology, bioprocess engineering, biochemistry, microbiology, immunology, bioprocess engineering, bioanalytical technology, basic computational biology and other related subjects.  Elective subjects are also offered to the students that prepare them for the future challenges and intended area of specialization.
The curriculum of this programme at Sharda Group is designed to cater to the demands of industry and to meet the challenges of the future. The foundation of biotechnology engineering program lies in the basic sciences – Mathematics, Physics, Chemistry and Biotechnology.  In the final year, each student completes a substantial research project addressing industrial, regulatory and several management issues surrounding biotechnology.
To apply knowledge in the field of engineering biotechnology to pursue higher studies and to make a career in biotechnology industries and research institutions

To plan and conduct the experiments in modern laboratories with state-of-the-art facilities

To instill professional attitude with responsibility, team work and effective communication skills in the learners, and the application of technical expertise to future challenges

To exhibit critical thinking ability towards solving complex issues of biotechnology field
10+2 pass from a recognized board or university with Physics, Chemistry, English and Mathematics/Biology as compulsory subjects and a minimum of 50% marks.
10+2 with PCM or PCB

50% Marks in 10+2

Passed from recognized board or university
4 Years Course

8 Semester

2 Semester/Year
Some Major Domains are as under:
Biotechnology application in this area has helped in the development of various medicines, vaccines and diagnostics. The remarkable development work carried out by biotechnologists in this field has led to improvement in the methods of diagnosis & cure for diseases which were once thought to be incurable and are now no more a cause of worry & which indeed has been a blessing for humankind. More research is continuously being undertaken & many break though achievements will emerge in future, in the medicine & healthcare field. Stem cells & DNA printing are some of the commonly known applications.
INDUSTRIAL RESEARCH AND DEVELOPMENT
Both the government and the private sector employ biotechnologists to conduct research and development work for increasing productivity, improving energy production and conservation, minimizing pollution and industrial waste etc. Biotechnologists also find opportunities at places involving activities like chemical processes, genetic engineering, textile development, cosmetic development etc.
AGRICULTURE AND ANIMAL HUSBANDRY
Indian economy is very much dependent on agriculture and biotechnologists have made major advancements in this area. Over the years the agriculture output has been improving owing to the improvements in the quality of seeds, insecticides and fertilizers. The latest technologies like micro propagation and tissue culture have further helped agriculture to overcome problem like soil imbalance, genetic breeding and crop diseases. Biotechnologists are also encouraging a shift from chemically prepared fertilizers and insecticides to bio-insecticides and bio-chemicals.  Further new breeds of plants with specific qualities such as weather or wither resistance or plants with specific insect resistance, or taste or nutritional value & properties etc are being developed. Biotechnology's intervention in the area of animal husbandry has improved animal breeding. Numerous kinds of genetically engineered, high yielding animal breeds have come up which has increased the output of dairy products as well as the meat products. India has in fact, become the largest milk producer in the world and in its further growth Biotechnical inputs will make important contribution.
Environment biotechnology has become another area of extensive work due to the dangers brought about by increasing levels of environmental pollution. In this field, the job of a biotechnologist spans from checking industrial & air pollution levels, treatment of industrial wastes, recycling of sewage sludge using bio-technological inputs & controls.
B.Tech Biotechnology at Sharda Group offers a rewarding and promising career. It is a rapidly growing field and the demand of biotechnological experts is also growing consistently in India as well as abroad. This field offers a blend of many specializations and lucrative job opportunities are available for the successful candidates.
After completion of the program, biotechnology engineers can find job opportunities in pharmaceutical companies, agriculture and chemical industries. They can be employed in the areas of planning, production and management of several bio-processing industries. After pursuing B.Tech Biotechnology, students can easily find jobs in research laboratories run by government as well as private organizations.
They can even join government and corporate run research and development organizations. On the whole it is a very good career opportunity for the bright young people. B.Sc. (Bio-Tech) may also find employment as above but initially in a non executive or support role more as laboratory or production junior executive or in an assisting role. The published figures of Biotechnology Association shows a demand forecast of 2.5 million jobs in next decade, out of which 2.5 lakh jobs will be quality jobs requiring B.Tech./Graduate /P.G. Degrees and Diplomas. In take capacity such large numbers is currently severely limited.
India is ranked among the top 12 biotech destinations in the world and is the third biggest in Asia-Pacific in terms of the number of biotech companies."The biotechnology sector is one of the fastest growing knowledge-based sectors in India and is expected to play a key role in shaping India's rapidly developing economy.
CORPORATES WHICH RECRUIT SGI BIO-TECHNOLOGY STUDENTS
Several water purification, waste disposal and recycling companies, pollution control agencies are recruiting SGI students in addition to several civil engineering firms like
SIMA Labs
Larsen and Toubro (ECC Division) Ltd.
JMC Project Co. Ltd.
Hindustan Constructions Ltd.
ERA Infrastructures Ltd.
Oriental Constructions Ltd.
Simplex Infrastructure Ltd.
Continental Engg. Ltd.
Punj Lloyd Ltd.
Lloyd Insulations Ltd.
Kanwar Enterprises Ltd.
Piaggio Ltd.
Orissa Cement Ltd.
AIMIL Ltd.
MES-UES…..
Remuneration very much depends upon academic qualification, Institute or University from which the degree is obtained and the level of work experience. In the corporate sector, fresher B.Tech graduates from reputed College/University may get min. Rs.2.5 lakh p.a. to Rs. 4.5 lakh p.a. B.Scs may get about 30% to 50% lesser. Research institutes & development centres of MNC's needing excellent research aptitude can pay even up to Rs. 5 lakh p.a. – Rs. 7 lakh p.a. in the beginning of the career itself.