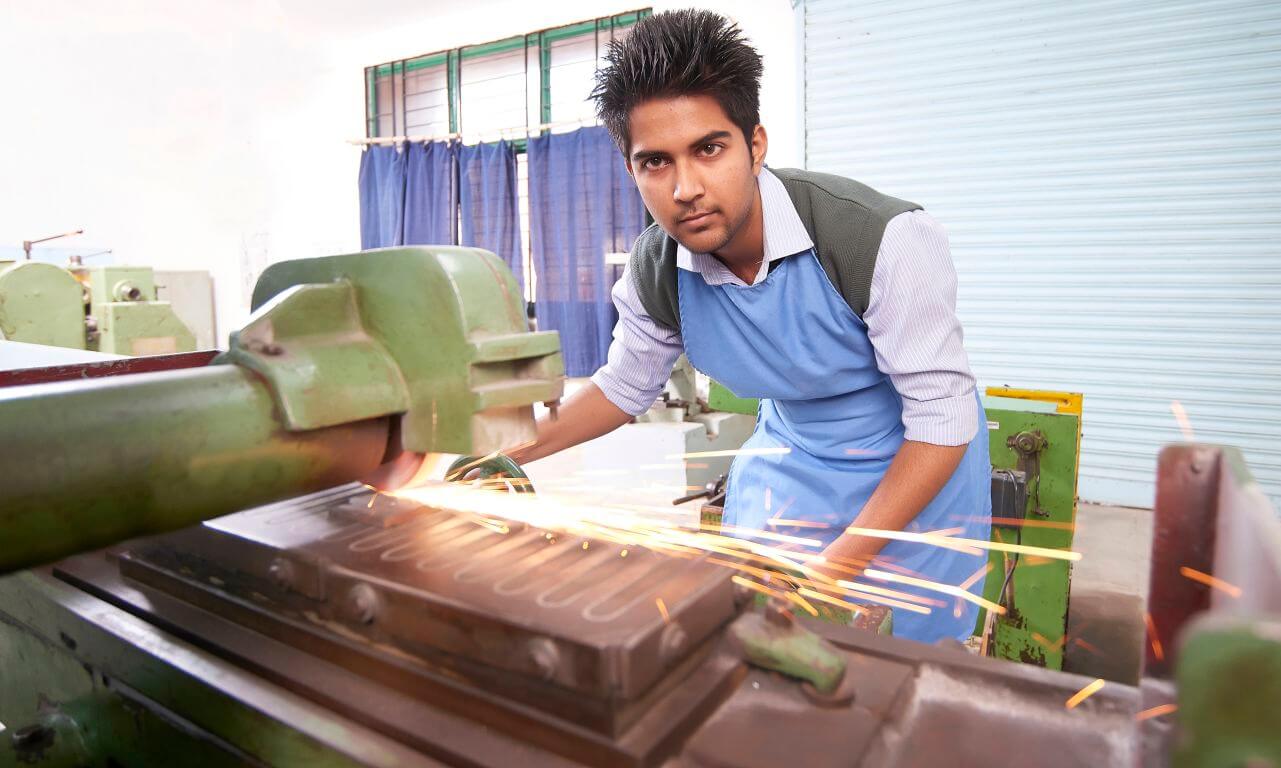 M. Tech. Production Engineering programme includes designing and installation of integrated systems for human and materials, equipment, and processes in order to increase the productivity of goods. 
Please feel free to contact us.
It enables the students to solve complex problems related to industrial productivity through analysis of R & D, production, sales, construction, assessment, and maintenance. The graduates aim at higher productivity by adopting integrated design, efficient planning, and operative systems.
Upon completion of the M. Tech. Production Engineering (PE) programme, students will be able to:
Apply advanced level knowledge, techniques, skills and modern tools of production engineering.
Develop management control systems to provide the right kind of assistance in financial planning, cost analysis, and production planning for the physical distribution of goods and services.
Function on multidisciplinary teams, working cooperatively, respectfully, creatively and responsibly as a member of a team.
Identify, formulate, and solve industrial productivity related problems using advanced level computing techniques.
Communicate effectively by oral, written, computing and graphical means.
Understand the impact of production engineering solutions in a global, economic, environmental, and societal context.
Recognize the need to engage in lifelong learning through continuing education and research.
Demonstrate knowledge of contemporary issues in the area of production engineering.
Manage projects related to production engineering in multidisciplinary environments.
The graduates will become eminent production engineers capable of playing significant role in the industrial sector or carrying out related research activities at academic and research institutions.

The graduates will apply their knowledge and skills of production engineering with an understanding of realistic constraints for the overall benefit of the society.

The graduates will engage in life-long learning and professional development through self-study, continuing education or professional and doctoral level studies.

The graduates will work and communicate effectively in inter-disciplinary environment, either independently or in a team, and demonstrate leadership qualities.
B.Tech/B.E pass from a recognized board or university and a minimum of 60% marks.
B.Tech

60% Marks in Engineering

Passed from recognized university
2 Years Course

4 Semester

2 Semester/Year
CORPORATES WHICH RECRUIT PRODUCTION ENGINEERING STUDENTS
Software Companies:
TCS
Infosys
Satyam- Mahindra
L & T Infotech
HCL
I-Gate
NIIT Technologies
Torry Harris
Wipro Infotech
EDS
Webcom
R-Systems
Global Logic
Netchasers
Sapient
Sapient Informatics
Accenture
Daffodil Software
Networking Companies:
HCL Infosystem
Data Armor
Spanco
Hughes Communication
Idea
Tata Tele Services
Sterling Telecom Electronics Companies
Mobile/Communication Companies:
Sasken
Z-Teck
Electro Com
Sony Ericsson
L.G. Electronics
Control & Switchgears
TNS
Abacus
All the three wings of Indian armed forces viz. Army, Navy and Airforce
The opportunities are limited only by the aptitude, training and preparation of the candidates. Beginning with minimum of Rs. 2.2 lakh/p.a. to Rs. 4.5 lakh/p.a. for entry level jobs, bright students are able to secure offers as high as Rs. 4.5 – Rs. 6.5 lakh/p.a. with specialized training in Mobile computing, VLSI Design etc. Sky is the limit for experienced professionals.